On previous day we talked about the
need for attractive themes
. In that post itself I told you that I will bring up a post with 'Top 10 Wordpress Theme Providers'. Creating a customized theme by yourself or with the help of a designer will be time consuming and might require you to spend thousands. Here is the list which will take you to the whole new world of Wordpress themes. I haven't categorized the list on any basis because all are better in one way or the other.
Elegant Themes
They provide Wordpress themes of quality and integrity. They craft their themes with a goal of simplicity and professionalism and strive to inject each design with a dose of modest elegance. They believe that your website is not just a tool; it is an integral part of your identity.
Know more about them.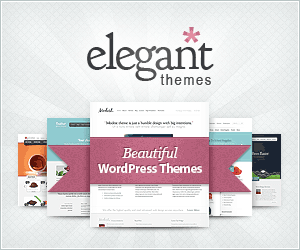 WooThemes
They are one of the top Wordpress Theme Providers. It started with just three designers. But now they are somewhat like the best in the field. They design two Wordpress themes every month.Go to
woothemes.com
iThemes
They provide A-Z services from building a premium Wordpress Theme to installation. Choose templates from thousands of available options.Check
ithemes.net
Studio Press
Studio Press
provides professional Wordpress themes which you can choose from thousands. Their Genesis theme is one of the best used by bloggers like Chris Brogan.
Get one such theme
.
Templatic
Every month they provide two new themes. The professional themes are designed such that they get maximum Search Engine Exposure. Themes are ready for advertising and monetization.
Watch their site.
Press 75
Their themes are unique, clean and efficient with several key customization and content management options. Basically, you get everything you need and absolutely nothing you don't. View press75.com.
Theme Galaxy
Their commercial Wordpress themes are coded using semantic and up-to-date xhtml and css. This means that their themes are nimble, and display consistently in all major browsers. Works will with all versions of Wordpress.
Check some of their themes.
Colorlabs Project
Their themes are simple, have good typography, minimalists and more importantly easy to maintain.
Check out their premium themes
.
Rich Wordpress
The
RichWP Theme FrameWork
is easy to use and gives you full control over your design and layout. Together with the available Child Themes and Design Presets, rapid and streamlined Web development is guaranteed. Your results will be fast, SEO-friendly, professional-looking Web sites of any kind.
Check it out.
Solostream
Even though there is not much collection with them, the themes they provide are very attractive and SEO friendly. Even their forum is a better one. Check it out.
I hope that you liked the post. Share your views and provide me with information about any other Wordpress Theme Providers. I would like to update this post to 25 Top's.